Grace Fellowship Church is a family. We are brothers and sisters, some by blood, but all by our adoption as children of God through common belief in His Son, Jesus, as the way, the truth, and the life. It is that belief in the fact that repentance toward God and faith in Jesus alone is the only way to be saved from God's judgment that has continually united us through the years. That belief also drives our purpose of bringing grace to Louisville, Kentucky, and to the ends of the earth by proclaiming the good news of Jesus Christ and seeking to grow together in him.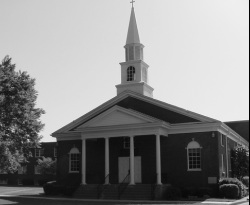 While it is our belief in this one truth that brings and holds us together, we are diverse in every other way – in age, gender, ethnicity, and background. The history of our church begins over 20 years ago with a group of Filipino believers joining together on Sunday evenings to be encouraged in their faith – a group first organized by one of our current elders, Joel Velasco. That group met for 13 years in space provided by Lynwood Baptist Church before constituting as Grace Fellowship Church in 2004 and moving to space at Beechwood Baptist Church. Since the inception of the church we have continued to maintain our "Filipino flair," always remembering that we are not a Filipino church… just a church with a good number of Filipinos! Our desire from the very beginning until right now is to reach all people with the gospel. Our heart is for all of the diverse people that make up the city of Louisville, because if the gospel is open to all people who come in repentance and faith, regardless of race, gender, ethnicity, or any other distinction, then we as a church want to be open in the same way.
In 2011, Grace Fellowship moved from meeting in the basement of Beechwood Baptist Church to leasing space in an office building on Bardstown Road in the Bon Air/Buechel Neighborhood. October 1, 2017, was our final service in that location as the building was sold and repurposed. Our more than six years at that location were a wonderful time of growing and learning together, especially in the area of outreach and mercy ministries. We sought to serve our neighbors well and grew to love that area of town. It is our hope to find a new meeting space within the same area where we can continue to share the love of Christ in word and in deed.
We are thankful for the many ways God has blessed our church throughout the years, most clearly seen in the godly men and women who have made up our membership and leadership. We rejoice in his faithfulness and kindness to us. And we also look to the future as we together seek to bring the message of God's grace to the city of Louisville.